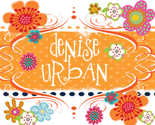 All designs by Denise Urban
No one would ever call me a minimalist. I love putting diverse patterns together. I'm an eclectic artist whose creative curiosity is insatiable. I'm passionate about color, pattern texture and fabric.
Description:
Doodle Sprouts is a surface pattern collection full of quirky handmade charm and character. A vibrant, textural range, full of handmade charm and character. All designs feature stitching and embroidery set upon fun polka dots, dizzy florals and bold stripes!