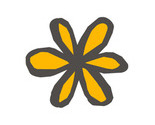 All designs by By Virginia Kamau
Jambo and welcome to Njeri designs Spoonflower shop. I am a surface pattern designer with innate passion for colorful forms. Do you like a particular design, but would love to have it in other colors? -I could fix that for you.
Description:
Cameo with African body art inspired elements.