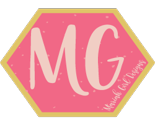 All designs by Mariah Haney
I am a seamstress and self-taught designer, and my style is unpredictable and colorful! I live surrounded by fabric and creative projects. Contact me for custom changes in scale or color. Pick a Collection to see everything that matches!
Description:
Up where the earth is frozen and blanketed by snow, life abounds. Brilliant and vibrant colors reflect off crystalized ice like a prism. If you look closely you will find Ptarmigan, Hares, and Arctic Foxes hidden in the snowy landscape. Make friends with the Polar Bear, play with the Narwhal, and fall in love with the North.