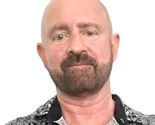 All designs by Patrick Moriarty
My textile print designs have been bought by major retailers worldwide for the last 22 years for fashion, accessories and home decor. In 2013 I launched my own website & brand paisleypower.com specializing in creating unique fabrics and fabric products.
Description:
The paisley rat pattern is Patrick Moriarty's most popular design. It comes in different colors and different sizes. It's a Victorian classic with a punk rock twist. He drew the rat silhouettes by hand and then drew the paisley pattern around them. The design is popular with a wide variety of admirers: musicians, animal lovers, fabric collectors, DJ's, fashion designers and people who like to project an adventurous alternative lifestyle. Please contact Patrick if you would like the design in a particular scale or color for a specific project. He will be pleased to try and accommodate your requirements. Where there's a rat, there's a way!