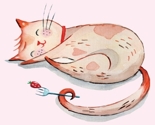 All designs by Natalie Jane Prior
Australian author Natalie Jane Prior and illustrator Cheryl Orsini are longtime collaborators on children's stories and picture books. These fabric ranges are based on illustrations from their books.
Description:
Fabric based on the forthcoming picture book, Lucy's Book, by Natalie Jane Prior and Cheryl Orsini.