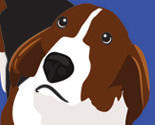 All designs by Elishka Jepson
Rocket scientist by day, graphic designer by night! I am happy to do customizations of any of my designs - send me a message on Spoonflower or drop me a line at robyriker@aol.com!
Description:
A fun, spring-y collection of Easter inspired basset hound prints, as well as a make-your-own Easter basket cut-and-sew pattern!