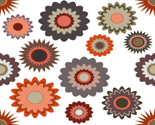 All designs by France Gionet
I paint, I draw. I own and operate a summer art school. I create. I think, all the time. And now, I design fabrics. Life is full of wonderful stuff to do...
Description:
The colours in this collection evoke the sea, sand dunes and tall grass. All designs in this collection are colour coordinated so you may pick and choose the motifs and shades that better fit your tastes and your needs.