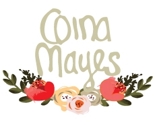 All designs by Gina Mayes
I'm a busy mom of 4 and enjoy a good book, chai tea and crafts in general. If you're on Instagram and used my fabric on a project, please tag me @sewknitandcrafty - I'd love to see your lovely work!
Description:
Soft tones, watercolor brush strokes and botanical elements with a playful twist. Cute bunnies and happy flowers make the best of friends.