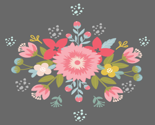 All designs by Susan Labrum
My name is Susan Labrum and I am so glad that you dropped by to check out my designs! After 30 years as a graphic designer I am excited to venture out as a pattern designer/illustrator.
Description:
Clove pinks Gillyflower (carnation) were a Victorian favorite and were incorporated into various languages of flowers used by young lovers. White blooms signified pure love and good luck; red meant deep love; striped stood for unrequited love, and pink represented either admiration or a woman's love.