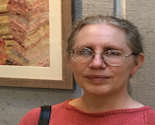 All designs by Deborah Eater
Even though I'm a fine artist ususally working in paper collage (www.DeborahEater.com), I also have an endless love for pattern an design that I am delighted to share with you here.
Description:
These designs are adapted from my artwork in painterly collage. Each collage is composed of anywhere from a few dozen to several thousand small overlapping squares of recycled paper. Images take shape one tiny square at a time much as a painting appears one brushstroke at a time. My inspiration comes from nature but often takes a very abstracted form. Prints of the original works can be purchased from Cricketswool on DeviantArt.