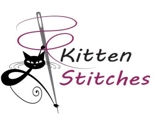 All designs by Kitty
My love of graphic design bleeds into other hobbies, like cosplay, embroidery & fabric design. Contact me if you have an image you would like digitized for embroidery.
Description:
These fabrics meet one requirement: Would I happily wear a dress made with this design? Answer: YES!