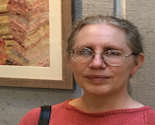 All designs by Deborah Eater
Even though I'm a fine artist ususally working in paper collage (www.DeborahEater.com), I also have an endless love for pattern an design that I am delighted to share with you here.
Description:
Snowflakes fascinate me with their infinite forms and variations, as these patterns illustrate. Some are bold, some delicate, some simple, some complex.