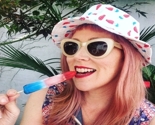 All designs by Georgena Senior
Georgena Senior is a designer and illustrator with a passion for Branding & Surface Design. With a well-trained eye and a special devotion to her pens, pencils and sketchbook, Georgena's talent is enhanced by her intrinsic drawing and painting skills,
Description:
All patterns in this collection originated as ink drawings in my sketchbook. Some have watercolor fills and others moved into vector with solid color fills. Once scanned, I like moving them around and using the computer to compose the doodles into whimsical patterns.