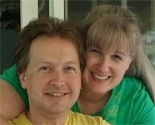 All designs by Danita Courtney
I love fabric, sewing and creating, and Spoonflower allows me to combine all these loves. I live in Midcoast Maine, where artists dwell aplenty. So I guess I fit right in! And my husband Dean really enjoys designing fabric too, so that's a plus!
Description:
These designs were created in Inkscape, with some Photoshop alterations possible.