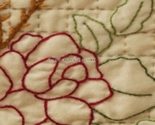 All designs by France Nadeau
I have a passion for fabric and a few decades of experience in using it. Sewing with a sewing machine, sewing by hand, making quilts, doing hand embroidery, stitching appliqués, making cards with fabric... I love creating with this versatile material.
Description:
Red butterflies, flowers (blue, green and yellow) and grey polka dots. Sweet, fresh and lovely.