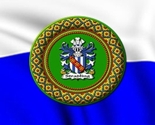 All designs by Bruce & Krystyna Stradling
My wife and I are graphic designers. She was one of the first photoshop users and creates wonderful 3D designs. Please let us know if you would like something changed. It's easy to resize, or change colors.
Description:
Wycinanka is a form of art in Poland, It is very colorful and bright.