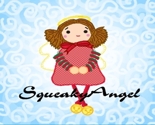 All designs by Kathryn Williams
Welcome & thank you for visiting! If you have any requests for size or colour changes please feel free to send me a message. All designs are ©SqueakyAngel / Kathryn Williams All Rights Reserved.
Description:
Cute little owls in a variety of colours, some sitting in trees :) I had a go at designing some owls & I didn't think my first attempt was any good so I went away & researched owls. I came up with 3, Barny, Tawny & Snowy each with their own distinctly shaped face. These owl fabrics can be mix with those in my co-ordinates collection as the same colour palettes have been used.