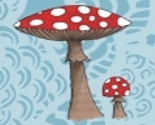 All designs by Naomi Minner
Naomi Minner is a Florida-based artist and creative. She is inspired by her supportive family and friends, the outdoors, and an undeniable love of shiny objects to spend her life creating and exploring creativity.
Description:
Mushroom love I love the beauty of mushrooms- so simple at first glance- but so detailed upon further inspection.