The Wookie Workshop Collection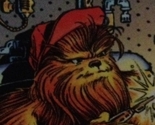 All designs by Jerry Witman Jr.
I like to make obscure fan art. You know that stuff only true fans will thoroughly appreciate it. I love nostalgia and old dead brands. But I also love iconography. Check out my Ko-fi site for special offers and one of a kind fabrics
Description:
Sci-Fi designs inspired by popular culture.