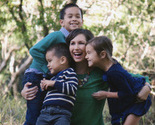 All designs by Stacy Iest Hsu
I am currently a freelance surface and textile designer in the Bay Area. Please contact me if you are interested in licensing any of my work at stacyiesthsu@gmail.com.
Description:
This is a collection of sweet chickens and flowers. Perfect for quilters or collectors of fabric. The fabric was inspired by my brother and sister in laws chickens as well as the my Tea Towel 2012 Calendar.