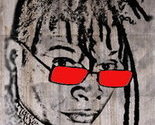 All designs by Nalo Hopkinson
I'm a novelist who makes other things when I need to do some writing avoidance.
Description:
Selections of four matching designs of mine, each combined into a "cheater" quilt pattern, size 21" x 18". If you'd like me to create a different match-up, drop me a note.