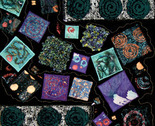 All designs by Stella Sexmith
Fiber Art: I paint, dye fabric, discharge fabric, paint on fabric, make small monoprints using fibers, sew my own and others' fabrics (but not quilts) and knit a lot. I hang out at high end craft shows when I can. Sometimes I read and sleep.
Description:
A collection of designs made using paint sticks on fabric, primarily using hand carved stamps. Some are very old stamps that I've picked up at yard sales, others have been hand carved by my husband. Still more are made with string stamps or found objects. Occasionally, I'll make one that is just a collection of fused paint chips on a painted background.