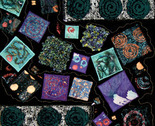 All designs by Stella Sexmith
Fiber Art: I paint, dye fabric, discharge fabric, paint on fabric, make small monoprints using fibers, sew my own and others' fabrics (but not quilts) and knit a lot. I hang out at high end craft shows when I can. Sometimes I read and sleep.
Description:
My husband's Grandmother and her husband were rockhounds in the 1950's, traveling all over the Western US collecting rocks. They then sliced up many of them and made and sold rock tables. When Grandma passed away, many unused slices of rocks still remained. This collection is a fiber interpretation of some of these rocks.