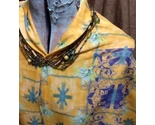 All designs by Kweli Kitwana
Designs celebrating African American history, culture and tradition. A reinterpretation of fabric.
Description:
Juneteenth, also known as Freedom Day or Emancipation Day, is an American holiday honoring African American heritage and celebrated by people of all ethnic and racial backgrounds.[citation needed] It commemorates the announcement of the abolition of slavery in the U.S. State of Texas in 1865. Celebrated on June 19, the term is a portmanteau of June and nineteenth, and is recognized as a state holiday in 35 states of the United States.