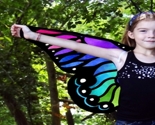 All designs by Wendy Sloan
I create original art for my own products and sometimes release the art for sale only via Spoonflower. All of my designs are Copyright Wendy Sloan. Many designs are registered with the US copyright office. Please contact me for licensing in USA only.
Description:
A collection flowers and butterflies with a nice vertical "strip" flower vine.