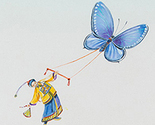 All designs by Jennifer Carrasco
When I finally stopped wandering, I settled in Seattle to paint murals for the past 24 years, along with illustration and fine art. My recent mural projects had so many delightful images that I decided to extend my product. Hello Spoonflower!
Description:
More fabulous chinoiserie animals!