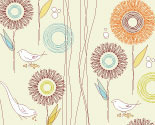 All designs by Jules Davis
Hi, I'm Jules, an art director, surface pattern designer and shameless consumer. My love of trend watching, licensing, pattern and product led to the founding of Brand Bird in 2005. If you are looking for clean modern design, just give me a whistle.
Description:
A vintage inspired kitchen themed collection in 2 color ways. Now get cookin'!