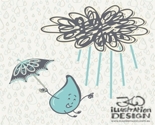 All designs by Kayleen West
I am a children's author and illustrator. I am new to surface design and loving it!
Description:
Cute raindrops, umbrellas and decorative smiling clouds are all part of a design that makes you appreciate the beautiful sky in a child-like way. Smile as the happy clouds and the raindrop characters I call "umberdrops" smile back at you.