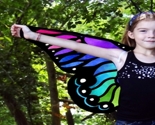 All designs by Wendy Sloan
I'm a designer and illustrator in the Washington DC metro area. In addition to my Spoonflower work I offer custom design and one on one surface design classes. All of my work is based on original hand drawn illustrations.
Description:
Little Red Riding Hood - you better run. Wolves, Owls and Bats, their eyes are on you. A forest of Willows and Vines stands between you and your Grandma's home, the first cottage just beyond the village. Will you make it there before the Owl steals your Cloak? A wretched starving wolf ends this Halloween fabric story.