810 Quilting Bee 1 - Complex Mixed Pa...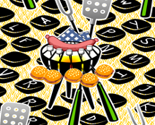 All designs by Pamela Rinehart
Mostly digital art/all originals - do not copy (Copyright Pamela Rinehart - all rights reserved) | YES - you can make/sell anything made with fabric you buy | view fabric collections for a better experience
Description:
A palette of colors formed from paired patterns in blended color ranges QuiltersDon't see exactly what you want - just ask! I can modify colors, rescale or create coordinates as well as entirely new designs. My website is www.glimmericks.com, where you can see more of my work and my blog. Visit http://www.glimmericks.com/fabric-collections.html for an organized list of all my collections. More navigation aids are on the way! Happy browsing!
More collections by glimmericks