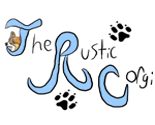 All designs by Welsh S. The Rustic Corgi
Notice: I order swatch samplers of 15-30 new designs approx once a month. Yes, as long as you've purchased the fabric directly from my SF shop (the only place I sell), you may use it in your items for sale at Etsy and elsewhere.
Description:
Here at The Rustic Corgi we have another, now not so secret, pleasure, the sport of Paintball! After seeing its reappearance on television in the last few months, that sprung an idea and here it is! After digging through my photo archive I tossed around whether or not this would even be a good idea, I hope I made the right choice and that we're not the only nerds out there who still enjoy a good game of Paintball.
More collections by rusticcorgi